This is the first chapter in the game.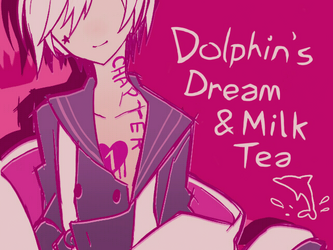 Next Chapter--->
Walkthrough
Edit
This walkthrough was copied from vgperson's.
Note: Friend guide is on the Gameplay page.
Spoilers Below
Talk to Mikado.
Return to Nanashi's bed.
Talk to Mikado again.
You can introduce yourself to everyone around town.
To advance the plot, talk to the boy to the left of the shrine gate in Sunset Hill.
Go inside the candy store to the left and talk to the old lady.
Go to 307 Tower in Blue Sun Street. Go to 5F and talk to the boy.
Leave the tower and go right, and talk to the girl standing outside Rat Ear.
Return to the Manta Swimming School and walk to the right.
Talking Time:
Keep listening,  then present the "Choco-Banana Flavor" topic after he mentions ice cream.In part two, when he mentions nicknames, present "Nickname: Orca."
Return to Nanashi's apartment and talk to Mikado.
Go to Nanashi's bed.
Talk to Miumi outside the apartment.
Go to Sunset Hill and talk to Natsukage where you first found him.
Return to 307 Tower, and you'll encounter Miumi on the way.
Discussion Time
When Misane mentions Natsukage having no memory, bring up Wounded Leg.
Choose "Because he's nice."
Present Friends' Behavior.
Go to the Manta Swimming School.
Talking Time:
When he mentions loving sports, present Sky-Sea-Run.
In part two, when he says "Orko," call him out ("Wait a sec!") with Nickname: Orca.
Choose "Wounded leg."
Present Wounded Leg.
Return home and talk to Mikado.
Free Time:
During Free Time, you're able to befriend townspeople.
Consult the Friend Guide further down for more info.
In the Free Time after Chapter 1, you can get up to a total of 18 friends.
When you've finished your business in Free Time, talk to Misane in Nanashi's room to continue.
Characters Involved
Edit
Note: * = First Appearance. Also, this is in no specific order. / \ means mentioned.
Community content is available under
CC-BY-SA
unless otherwise noted.